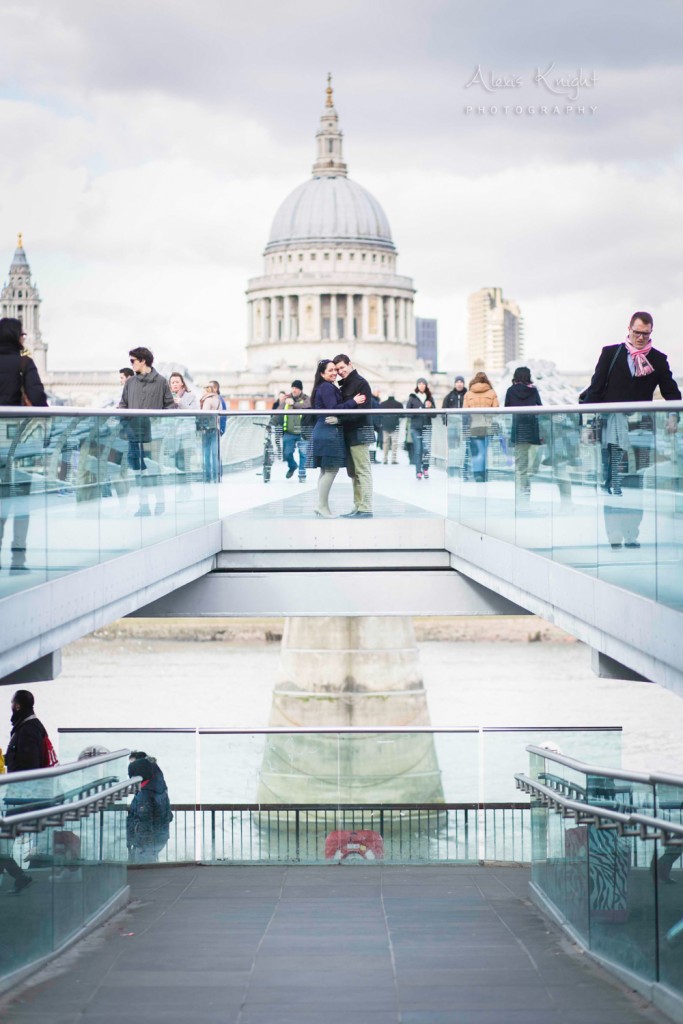 I stood on the steps of St Paul's Cathedral looking out for the couple that were searching for their photographer.  I always love this part of the job, guessing which couple in the crowd have come to see me.  Its a bit like a blind date… something I had never experienced.  We chatted in a cafe first to get to know each other and for me to suss out their wedding photography plan.  The two of them had felt quite nervous and self conscious to begin with about their photos as neither of them particularly crave the spotlight.  This is really normal for most of my couples.  So many of us hate having our photos taken, including myself!  They were completely thrown in at the deep end at this shoot as not only were the photos all about them, but it was lunch time in central London so people were everywhere!!!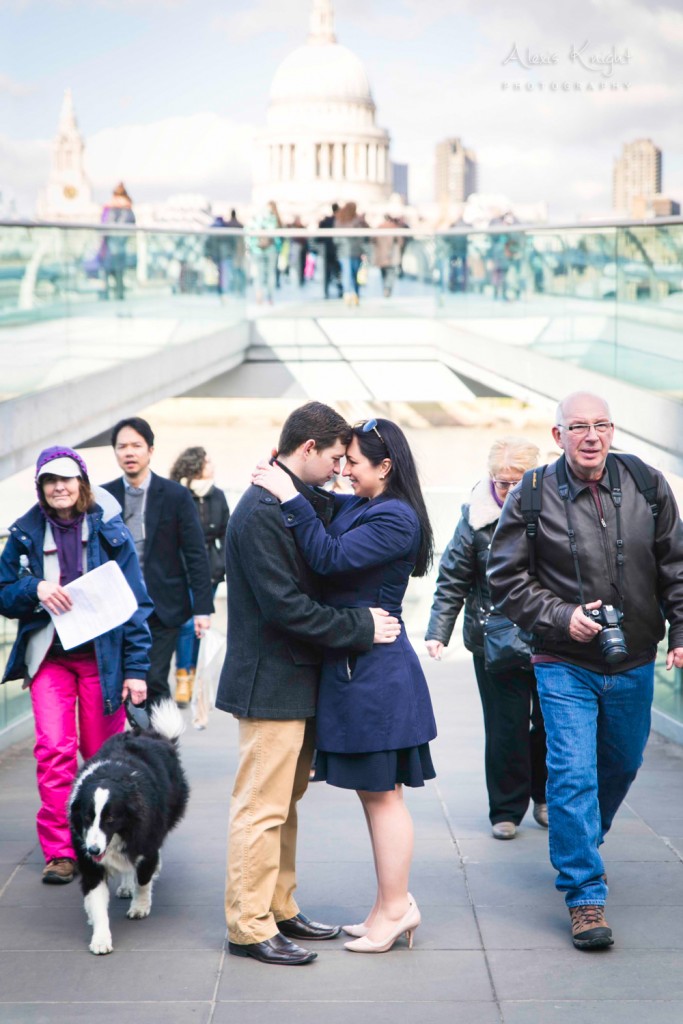 Bernadette and Chris wanted to have their engagement photos in London as its where the met, live and work so means a lot to them.  They have always particularly loved St Paul's Cathedral for its spectacular beauty.  Chris is a scientist from Kentucky, USA and Bernadette is a director of a global auditing firm, who moved here from South Africa.
With people in every direction that you turned, at first it was a pretty hard for them to relax into the
photography and focus on each other.  It can be very awkward having a kiss not only with people all around you but with a photographer pointing their camera in your direction.  At this point they said they had a new respect for the celebrities that have paparazzi following them around and with general public always looking at them…. but…. it was so excellent, within such a short space of time they completely relaxed into it and began to really enjoy it.  It was such a lovely transformation to see.  We had so much fun and laughs.  They even said they no longer had a care in the world about who was watching them and that it felt good, as if they were famous!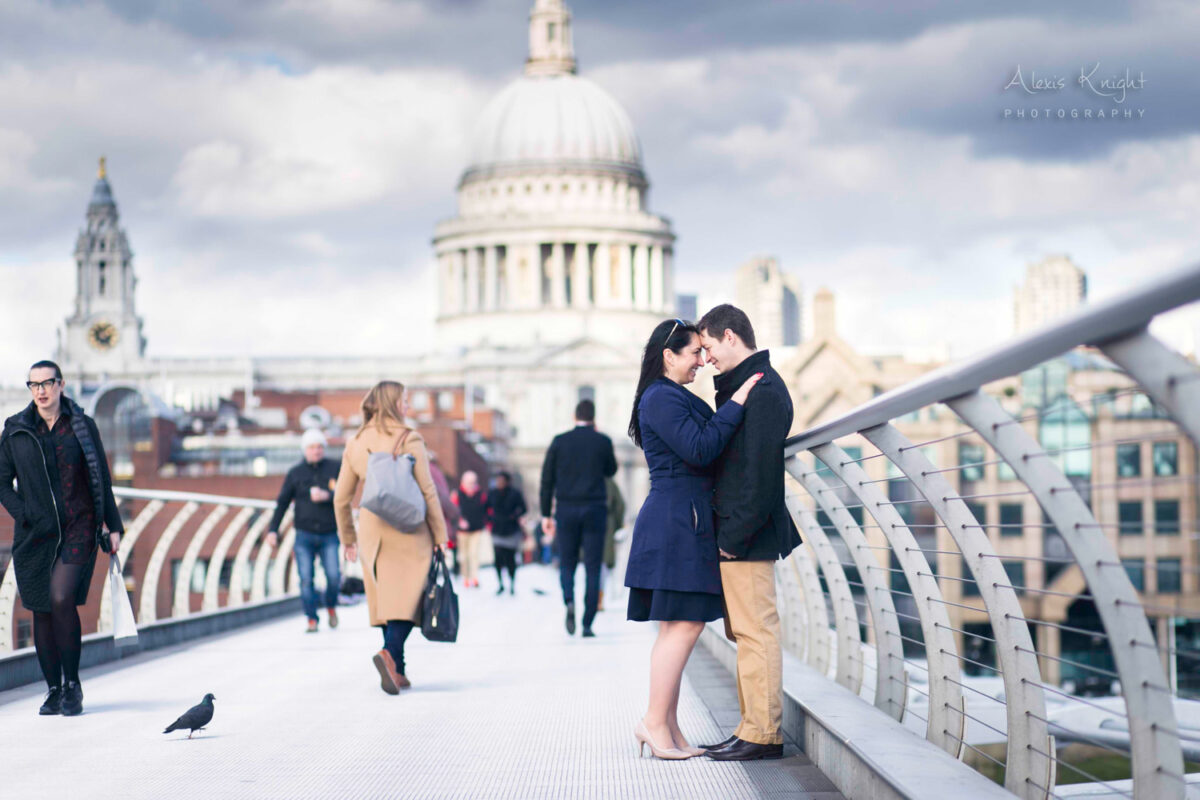 We started at St Paul's then crossed the Millennium Bridge over to the South bank where we had a leisurely stroll all the way to Westminster Cathedral.  Some of my favourite photos were taken toward the end, with the Palace, Big Ben and Westminster Bridge in the background.  At that point too, as it was towards the end of their shoot, they were uber relaxed and enjoying themselves.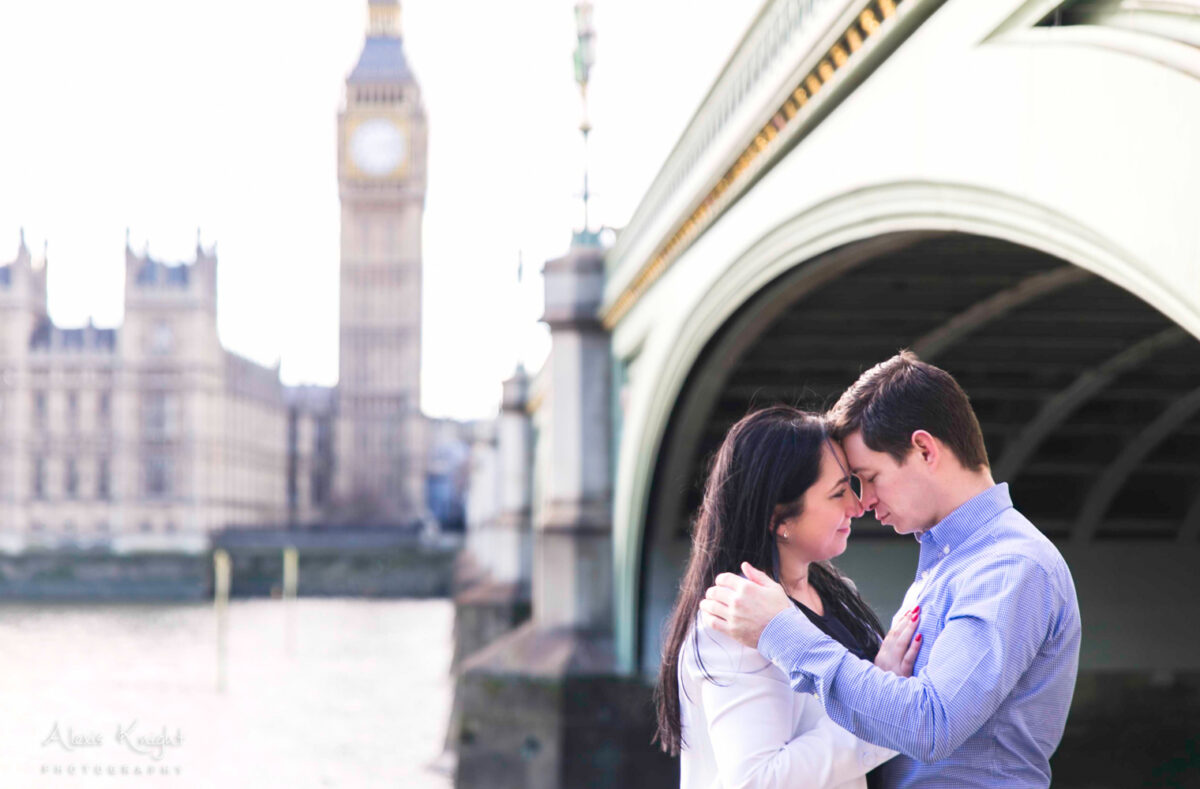 At one point, shortly after crossing the bridge there was a man blowing giant bubbles.  It seemed as if he was there for them.  Such a romantic and beautiful scene.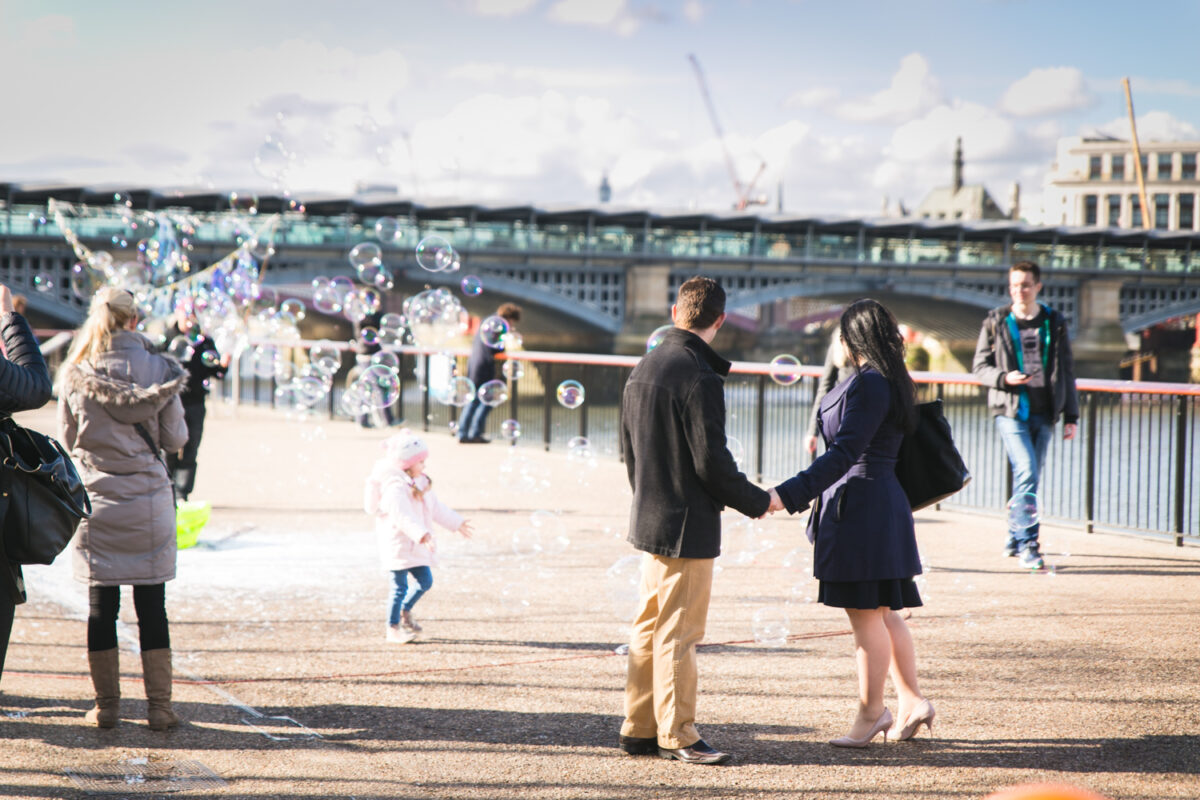 This is what is so wonderful about having an engagement shoot or pre wedding photos as some people call it.  Even the most nervous of people enjoy themselves by the end, and then when the wedding photography begins they take off from where they finished.  Themselves, at ease and relaxed.
I always choose to do outdoor portraits when possible as the natural light is so wonderful to work with.  We have such incredible scenery all around us too, which provides an excellent backdrop.  The fresh air helps to ground and relax us.
I am so pleased with this set of photos.  Even the pigeons joined in and helped make the photos even more memorable.
This is what I just received from Bernadette, having just sent her her photos.
"Dear Alexis

Thank you so much for the beautiful memories that you captured on the day! The photos look amazing and I can't wait to show Chris. Somehow you managed to make us look natural and gorgeous at the same time.

I can't wait to have you photograph our wedding! I think your work is just sublime!"
Here are a selection of my favourite, I hope you enjoy them,
Alexis