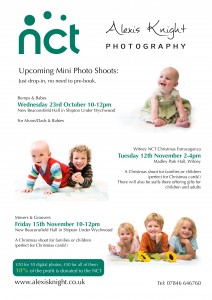 I will be photographing at the following events, which will be a  perfect chance to get a photo for your christmas cards.
Anyone is free to just drop in, no need to pre-book.  I put a schedule together on the day with a first come first serve basis.
The shoot itself is free, I only charge if you order your photos.  £20 for 10 high res digital images or £50 for your full set.
10% of the profit is donated to the NCT.
Any questions, just send me a message below,
Alexis x