Zoe and Stephen were married at the Notley Tythe Barn in July this year.  Elegant, classic, refined, beautiful, simple, full of love… all these words come to mind when I think back on their day.  I feel so lucky to have been a part of it all.  I was completely captivated by the two of them and their wedding.  They are such an inspiring couple and quite clearly a perfect match for each other.  They had a very clear vision of how they wanted their wedding to be and made it happen; it was so simple yet so beautiful.  They didnt get carried away with all of the details, which was really refreshing.  I could tell they were completely present and immersed in each moment, something that is far easier said than done on your own wedding day.  This made my job such a pleasure as I was able to really take a step back and capture and document the moments without much instruction or guidance.  Family and friends pulled together to contribute to making it perfect, from the classical music during the ceremony to the speeches, which were so good.  I found myself either laughing out loud during the speeches or close to tears with how emotional they were.
We were so lucky with the weather.  It was sunny and overcast, perfect for photography.  The scenery at Notley Tythe Barn is captivating.  I felt so spoiled with all of the choice of locations for shots.  We even had an incredibly beautiful dapple grey horse that posed in the background for many of their photos.  As I left and was driving away, I felt so inspired and happy.  I also noticed the incredible sunset over the wheat fields as I drove down the long drive.  I got out of the car and took a few photographs then sat there for a few minutes contemplating whether I should return to the wedding and interrupt Zoe and Stephen on the dance floor to come out for a few last photos.  I decided this was what needed to be done and I am SO happy to have gone back.  We drove with both of them crammed in the front seat as I had my childrens car seats taking up all of the room in the back.  The pictures that came from this last part of the day, were by far my favourite!  I think they must have had such a wonderful walk back to the barn after I left, just the two of them with the beautiful sunset.
What a day!
Below are just a select few, of some of my very favourites.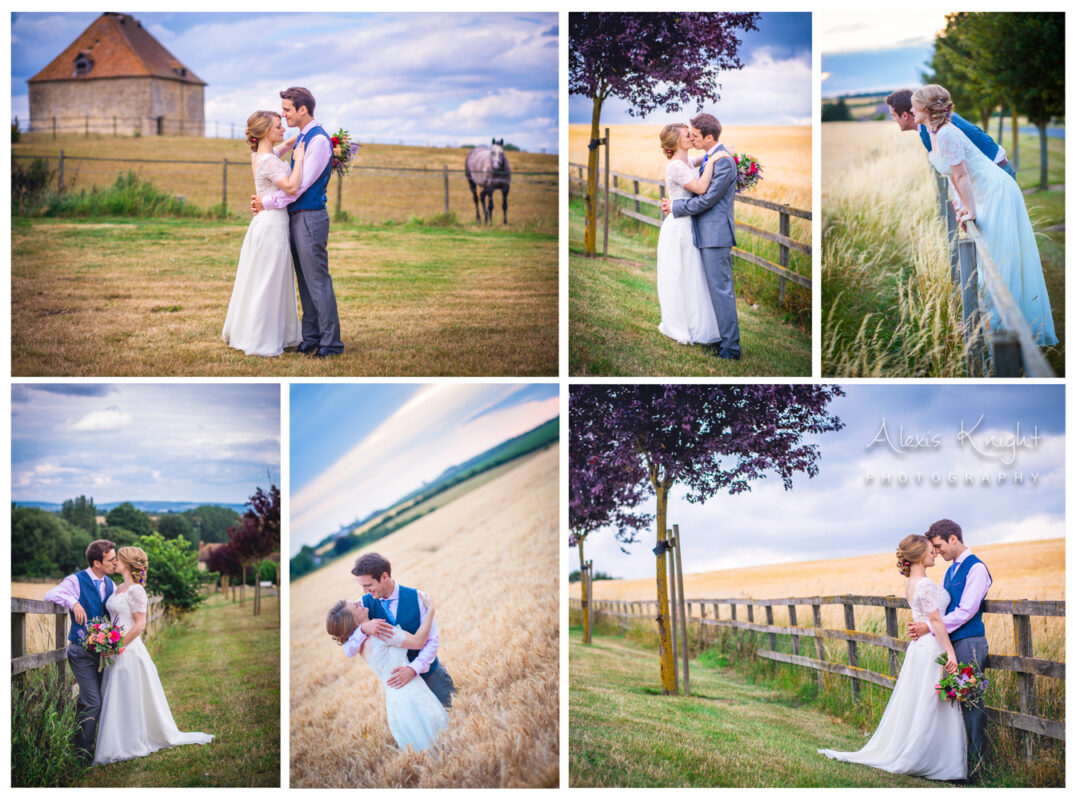 About the Notley Tythe Barn:
Nestling in a picturesque fold in the Chiltern Hills on the Bucks and Oxon border, Notley Tythe Barn is an ancestral part of the rural lanscape.
In 1991 owners Nick and Denise Reynolds lovingly restored the historic 12th Century barn. Now its beam rafted roof, its magnificent whitewashed hall and gallery echo not to the noise of harvest toil but to the sounds of wedding celebrations.
The Reynolds family have been farming Notley for over 350 years. Which is why, when they transformed the barn into a unique wedding venue, Nick and Denise wanted to make sure that it shared the same family-run feel as the rest of the farm. "The idea wasn't simply to create a place which people could book for a reception and then end up arranging everything themselves." explains Denise, "We decided we should provide a complete hosting service too." Every detail is meticulously planned in advance, from the ceremony (Notley has a civil licence which means couples can get married at the barn as well as hold receptions) to the seating, the music and the food and drinks.
The barn can seat 140 guests, while a permanent marquee can accommodate another 60. The doors of the barn open directly on to a garden, which reaches out towards the hills in the distance and has recently been redesigned by Steven Hendry, a Chelsea Gold Medal winning landscape architect. For the adults there is a cocktail and canapé lawn, while for the children there is a recreational lawn where they can run and play in complete safety. In addition a larger marquee can be placed on the lawn to accommodate up to 250 guests.
Longevity and permanence are the key words at Notley Tythe Barn and in the twenty one years since Nick and Denise welcomed their first happy couple they have hosted over a thousand weddings and receptions. "You know we are doing something right when people come back to celebrate the weddings of other members of their families." says Denise. "The bookings diary is almost full."
No wonder Notley Tythe Barn is proving so popular. It is a place that transforms a wedding reception into a wedding feast.
With its magnificent hall and gallery, with barn doors leading directly to the garden, Notley Tythe Barn is the perfect setting for your wedding.
We hold a licence permitting you to hold a civil marriage, partnership or naming ceremony at Notley Tythe Barn.
We produce tailored menus and any type of catering required to meet your needs. A traditional three course wedding breakfast will cost approximately £35 to £45 per head, and we can cater for up to 250 guests.
Notley Tythe Barn is fully licenced and our full bar offers any type of tab or drinks cap required. We can provide fine Wines and Champagnes or offer corkage on your own.