I exhibited my photography at a wedding fair in Eynsham Hall, Oxfordshire on Sunday.  It was a huge success and I thoroughly loved every minute of it, from all of my preparations and research to chatting with the huge number of couples that approached me on the day.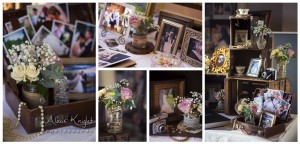 I am so proud of how my stand ended up looking after having been slightly apprehensive that I had gone completely OTT.   As well as wanting to show off my best photography, I wanted it to exude English vintage so that the whole stand was as visually pleasing as possible.  I really believe it was!  I did my research beforehand looking mainly through Pinterest to get inspiration.  For those of you who dont know Pinterest, it is an amazing and completely addictive web application for visual discovery, collection, sharing, and storage of photographs.  I decorated old jam jars with lace, buttons and hessian string, my main inspiration from these actually came from weddings I had photographed.  I bought an old antique briefcase which I fill with photos, pearls, crystal perfume bottles and flowers, which ended up looking so beautiful and I collected a bunch of miss matching vintage looking frames.   I used a few other props, tea cups, an old looking compass, some old cameras and cute little embroidered hearts scattered around and together it all looked so lovely.  For those feeling pecking I had a bowl of love hearts!  The albums I had on display were Queensberry albums, they speak for themselves, they are just stunning.  My one hiccup was that I had my ipad on display and forgot to turn on the slideshow I had worked for hours putting together!  But it didnt seem to matter as the feedback I had was so positive, I even had couples get in touch after the event to tell me how beautiful they thought my stand was.
My business is growing fast, 2015 is nearly booked up and 2016 is on its way so I am a happy photographer.
Any thoughts, shares and comments are always appreciated,
Alexis x