Claire was an old childhood friend of mine who got in touch when she got engaged to see if I would take her wedding photos.  I was so happy to do so and it was such a pleasure to meet her then fiance Alex, such an incredibly lovely guy, the two of them are so good together.
We met for their engagement photos at Cain Manor.   I hadnt yet photographed a wedding there so it was a great opportunity to get to know the venue and catch up with them both.  I have included a few of the photos from their shoot in this blob.  I had a lot of fun doing extra edits such as adding in new skies and making the overall photo vibrant and eye catching.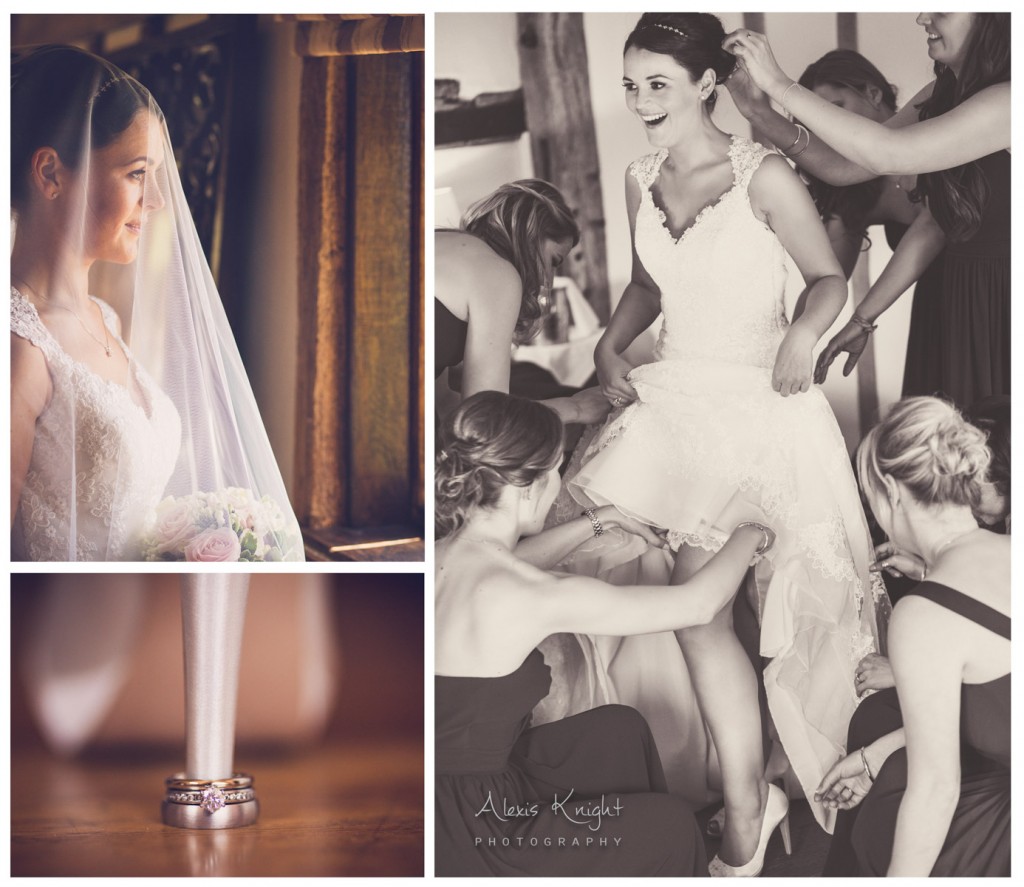 On the wedding day, I arrived with my very talented assistant Brad Payne at the Manor where I captured the bride and her bridesmaids busily getting ready and Brad went off to capture Alex and his groomsmen get ready and then have a pre ceremony drink at the pub.  They married in St Lukes Church in Grayshott, a grand and beautiful church.  The ceremony was personal and very well delivered, this is one of my favourite parts of a wedding day.  Listening to the vicar talk about marriage and all it entails, always seems to renew everything inside myself for my own marriage.  I came out of the ceremony feeling inspired.  They even had a flashmob sing who were amongst the guests in the pews, something Alex's parents arranged as a surprise.  After a lot of confetti they made their way to Cain Manor.
The weather was glorious, having chucked it down the day previous and the day after.  Cain Manor is an incredible venue with such beautiful rooms, somewhere you would want to spend a lot of time, sitting by a huge fire or just wondering around the gardens.   We had lots of fun with the photographs, they had wanted a mixture of natural, creative and fun shots.  Below are some of my favourites from the day.  The speeches were excellent and once the meal was over Alex's parents had arranged yet another surprise, a casino!  I was on my way back home shortly after they danced their first few dances, feeling very satisfied with a job well done.
Their Engagement Photos:
About Cain Manor:
Cain Manor is a specialist, exclusive use wedding venue on the Surrey and Hampshire border. It is licensed for civil wedding ceremonies inside and out and offers a choice of celebration and entertaining spaces.
History:
The naming of this area is a Biblical reference to the land to the "East of Eden" to which Cain was banished after the death of his brother Abel. It is rumoured locally that in the 16th Century a man called Cain who had been ex-communicated lived on the land that now makes up the estate.
The site of the current Manor was, until the 1990s, the site of two separate cottages that were originally constructed around the 16th-17th century. The timbers used in the construction of those cottages are believed to have been recycled from ships that date back even further than the buildings themselves.
In the 1990s the two cottages were combined into one single residence with a large barn-style Music Room which housed an indoor swimming pool. The work was done very sensitively and many of the original features and materials remain. In 2003 Cain Manor became our exclusive use country house wedding venue – the pool was covered over to create a beautiful barn-style ceremony and reception space and some of the outbuildings were converted to offer more bedroom suites.
Reception:
Cain Manor offers a warm and welcoming country home in which you can celebrate your wedding. It is private and secluded, being located at the end of a long, private drive that winds from the main road through dense woodland to the top of the hill, where the house sits. It has extensive landscaped grounds that make it truly special for weddings on sunny days, but has also been delicately reconfigured internally to make it utterly non-reliant on fine weather. With roaring fires and deep, warm furnishings, it is equally magical when covered in a thick blanket of snow.